Employee Benefits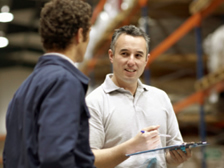 Our employee benefit policies:
Group Vision
Executive Benefits
The importance of good benefits.
Small businesses are relying on experienced, talented employees more than ever. What once was a basic job now requires a specific skill set and training. Companies are often 'investing' in their workforce to remain competitive, which incurs time and cost. As a result, turn over becomes more than just an inconvenience, it becomes expensive.
With good benefits, you can retain your valuable employes while raising their job satisfaction. Healthier, happier workers are more productive, reliable and content with their jobs. This can give companies added stability as well as an edge over their competition.
How to find the best policy.
Choosing the right carrier and policy is not an easy task, and requires the right guidance. Many policies are complex, and understanding what's covered can be challenging. Just shopping by price can be an issue, as insurance carriers change their rates on an annual basis. Also, there are variables such as prescription plans, procedure coverage, network coverage, and emergency care. To get the best coverage for the best value, you need a good agent to guide you through the complexities of each policy.
Old Tappan Financial can put together a benefits package that will fit your needs and satisfy your employees. With over 19 benefit carriers under one roof, we can find the best provider for your needs, and budget. You won't be locked in with one carrier because we represent several companies for each type of insurance. We also offer consolidated plans that group together disability, dental, vision, life and wellness programs into more affordable packages.
Even if you have a current plan, we'll take the time to return with a better alternative that satisfies your employees, and your bottom line. With Old Tappan Financial, you can expect more selection, more policies, and personal service to help you find the right insurance for your employees.